WEST LAFAYETTE, Ind. — Purdue University's weekly February Books and Coffee series will feature books from the 21st century that focus on coming of age in the United States, a theme driven by Purdue's first Common Reading selection, which will open the series on Feb. 4, 2010.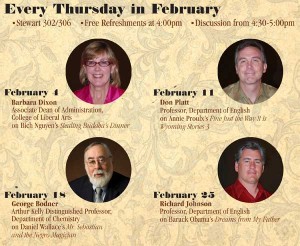 The 60th annual Books and Coffee, which is free and open to the public, will take place on the West Lafayette campus in Stewart Center, Rooms 302/306. The event begins at 4 p.m. when tea, coffee and hot cocoa are available. The talks by faculty members begin at 4:30 p.m., and the event concludes at 5 p.m. with a free drawing for prizes, including books and sweatshirts donated by local merchants.
The 2010 discussions will include:
Feb. 4. Barbara Dixon, associate dean for the College of Liberal Arts, will talk about Bich Minh Nguyen's "Stealing Buddha's Dinner." The book was selected for Purdue's first Common Reading program, and a copy of the book was given to each incoming freshman. After the talk, author Bich Nguyen, also a Purdue faculty member, will be available to sign her recently released "Short Girls." Copies will be available to purchase through Von's Bookstore.
Feb. 11. Donald Platt, poet and professor of English, will talk about Annie Proulx's most recent book "Fine Just the Way It Is, Wyoming Stories 3." Proulx, also author of the short story that inspired the film "Brokeback Mountain," will speak at the Purdue's Literary Awards event on April 22. An additional prize to this week's raffle will be a copy of the book signed by author Annie Proulx.
Feb. 18. George Bodner, A. Kelly Distinguished Professor of Chemistry, will talk about Daniel Wallace's "Mr. Sebastian and the Negro Magician."
Feb. 25. Rick Johnson-Sheehan, professor of English, will talk about Barack Obama's "Dreams from My Father," selected by popular e-vote by the Student English Association and Purdue students.
Books and Coffee is sponsored by the Purdue Student Union Board and the Department of English. More information is available on the Book and Coffee series at http://www.cla.purdue.edu/English/bookscoffee/
In Related News: