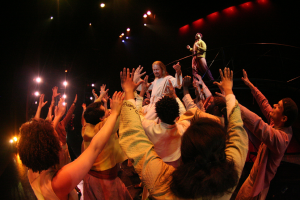 WEST LAFAYETTE, Ind. — "Jesus Christ Superstar," the groundbreaking theatrical masterpiece by Andrew Lloyd Webber and Tim Rice, is coming to Purdue University's Elliott Hall of Music at 8:00p on February 12, 2010. The performance is being presented by Purdue Convocations.
The first collaboration between Andrew Lloyd Webber and Tim Rice to be performed on the professional stage, "Jesus Christ Superstar" is one of the most popular and enduring works created for the musical theatre. Featuring such notable songs as "Superstar," "Everything's Alright" and "I Don't Know How to Love Him," "Jesus Christ Superstar" earned five Tony nominations.
Set in two acts, "Jesus Christ Superstar" tells the story of the final seven days in the life of Jesus of Nazareth. The production dramatizes Jesus' entry into Jerusalem, the unrest caused by his preaching and popularity, his betrayal by Judas, the trial before Pontius Pilate, and his ultimate crucifixion.
As relevant and timeless as ever, "Jesus Christ Superstar" is the rock opera vision of "the greatest story ever told." This story comes once again to the stage with Ted Neeley re-creating his critically acclaimed performance.
Neeley, best known for his Golden Globe-nominated role as Jesus in the Norman Jewison film of "Jesus Christ Superstar," will be headlining this tour. While Neeley has enjoyed a distinguished career in resident theaters throughout America, appearing in a wide variety of productions from "Hair" to the works of Samuel Beckett, he is world renowned for his title role in "Jesus Christ Superstar."
Director Dallett Norris ("Joseph and the Amazing Technicolor Dreamcoat," "Can-Can" and "South Pacific") says: "What could be better than having Ted Neeley, so grand in the film, on board as we delve into Andrew Lloyd Webber and Tim Rice's brilliant musical telling of this timeless story. Their idea of setting this tale in terms that immediately resonate with today's audiences is revolutionary. Here we are, 21 centuries later, and it is oh so clear: we need the message of this story now more than ever."
Tickets are $20-$45 for adults and $20-$32 for children 18 years and younger, Purdue students and Ivy Tech Lafayette students. Tickets are available at the Elliott Hall and Stewart Center box offices at 765-494-3933 or 800-914-SHOW. Tickets also are available through Ticketmaster outlets. Discounted tickets for groups of 20 or more can be ordered at 765-496-1977.
Initiated in 1902, Purdue Convocations is among the oldest collegiate professional performing arts presenters in the United States. Each year, Convocations offers the region 30-40 performances of widely varying genres: Broadway-style shows, theater, dance, children's theater, world music, jazz, and chamber music, along with rock, pop, country and comedy attractions. With a vision for connecting artists and audiences in artistic dialogue and for drawing in academic discourse, Purdue Convocations aims to promote frequent exposure to, and familiarity with, human cultural expression in a multitude of forms and media.
In Related News: