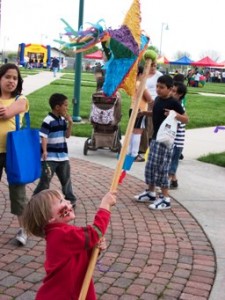 LAFAYETTE, Ind. — The 5th Annual Tippecanoe Latino Festival, presented by the Latino Center for Wellness & Education, will be held Saturday, April 30, 2011 from Noon to 6:00 pm at Ivy Tech Community College in Lafayette.
At the festival, sample authentic foods from locally owned restaurants, enjoy live entertainment, and participate in the richness of the Latino Culture. Proceeds of the festival support scholarships through the Latino Center for Wellness & Education.
An assortment of local food vendors and restaurants will offer Latin and American cuisine including El Chicano, Jarocho's, La Guadalupana and New York Cafe. Food tickets are $1.00 each, and can be purchased at the festival.
The main stage will feature a DJ and live musical performances by Grupo Kalibre and Clave 1. Festival goers can also enjoy a performance by the Tecumseh Broncos dance group.
Ivy Hall will house community information booths and the Latino Student Union Talent Show.
Griffin Hall will host Tech-KNOW Day, an opportunity for the public to view demonstrations and ask questions. Ivy Tech faculty will be on hand to give information on Ivy Tech degrees and careers, including Advanced Manufacturing, Welding, Design Technology and more.
Kid's World, an area of the festival dedicated to children's activities, will feature bowling, face painting, games, and much more.
The festival is open to the community.
For more information on sponsorship or volunteer opportunities at the Tippecanoe Latino Festival visit www.tippecanoelatinofestival.org or contact Andrew Antonio at 765-269-5241.
In Related News: