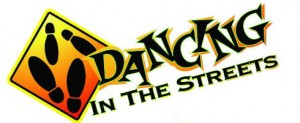 LAFAYETTE, Ind. — The 2011 Dancing in the Streets Festival will once again fill Riehle Plaza and downtown Lafayette-West Lafayette with the legendary sounds of Elvis, The Beatles, Rolling Stones and more, performed by some of the top tribute artists in the Midwest. This year's theme is "Let It Be" and will be held on Saturday, July 16th from 4:00pm to Midnight.
As in years past, Dancing in the Streets includes a classic car and motorcycle cruise, food, beer and wine and 3 stages of the live entertainment including performances by:
"MEET THE BEETLES" (a Beatles tribute band)
"HEARTLESS" (a Heart tribute band)
"HOT ROCKS"(a Rolling Stones tribute band)
and Roy "The King" Reynolds (performing as Elvis)
Additional performances include the artists: "Chris Stone Band", "The Tone Bones", "Andrew Simmerman", "Adam Friedman, Johnny Schaefer", "Jason Huneke" (Comedian/Magician), "Wendell Freguson – United Sounds Works" (DJ/Karaoke) and the Journal & Courier Local Band winner (TBA).
In addition to the live music performances, cars on display and food, WLFI will televise their 6 o'clock news on location, Radio Disney will be in the Kids' Corner from 7:00p-9:00p, and the Classic Car Cruise will roll from 7:00pm to 8:00pm.
Advanced Tickets and Day of Tickets
Advanced Wristbands went on sale Monday, June 20th and will be available until 5:00p on Friday, July 15th.
Cost is $5 for Adults ($10 at gate) and $1 per Child ($1 at gate)

Advanced Ticket Locations:
Fifth Third Bank, 3620 SR 26 E
Fifth Third Bank, 53 S. 2nd St.
Fifth Third Bank, 500 Sagamore Pkwy
Old National Bank, 2410 N. Salisbury St.
Old National Bank, 2250 Teal Road
Old National Bank, 3553 Promenade Pkwy
Old National Bank, 140 Creasy Lane
IBEW, 2535 S. 30th St.
Guaranteed Transmission Service, 3742 SR 38 E
Greater Lafayette Commerce, 337 Columbia St.
Payment Options: Discover, MasterCard, Visa
In Related News: