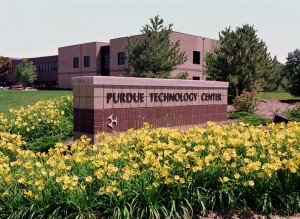 WEST LAFAYETTE, Ind. — Purdue University student and faculty entrepreneurs can register for a Feb. 16 program at the Purdue Research Park of West Lafayette to hear firsthand stories about successful business leaders.
The event, which is free and open to the public, is co-sponsored by Blue Chip Venture Co., Lilly Endowment Inc. and the Purdue Research Park. It is being organized by the university's Certificate in Entrepreneurship and Innovation program.
"One of our goals is to share real-life success stories of entrepreneurs in the state of Indiana," said Nathalie Duval-Couetil, director of the certificate program. "Innovative products and services can be developed anywhere – not just on the coasts – and find success on a national and international level. Our speakers prove that."
Scheduled speakers include Jeff Ready, founder and CEO of Scale Computing Inc.; Joseph Pekny, Purdue professor of chemical engineering and co-founder of Advanced Process Combinatorics Inc.; and Jim Bartek, business development manager of the Purdue Technology Center of Indianapolis and co-founder of Seyet LLC. All three firms are based at one of the four sites in the Purdue Research Park network.
Christopher Beltran and Paroon Chadha, co-founders and vice presidents of Passageways LLC, a Purdue Research Park-based firm, will serve as program moderators. They also teach the entrepreneurial capstone course for the certificate program.
The program will take place in the large conference room on the first floor of the Herman and Heddy Kurz Purdue Technology Center, 1281 Win Hentschel Blvd., West Lafayette. It will begin at 6 p.m., with networking and refreshments following the program.
Although the event is open to the public, space is limited. For reservations, contact Sascha Harrell at 765-494-3805, smharrel@purdue.edu, by Feb. 12, or register online at http://www.purdue.edu/discoverypark/entrepreneurship/parkevent.php
About Purdue's Certificate in Entrepreneurship and Innovation Program
The Certificate in Entrepreneurship and Innovation Program, which is housed in Discovery Park's Burton D. Morgan Center for Entrepreneurship, is available to Purdue undergraduate students in all majors. Its purpose is to make entrepreneurship an accessible career option by providing students with the skills and knowledge required to launch new business ventures.
About Purdue Research Park of West Lafayette
The 725-acre Purdue Research Park has the largest university-affiliated business incubation complex in the country. The park is home to more than 160 companies. About 100 of these firms are technology-related and another 39 are incubator businesses. The park is owned and managed by the Purdue Research Foundation, a private, nonprofit foundation created to assist Purdue University in the area of economic development. In addition to the Purdue Research Park in West Lafayette, the foundation has established technology parks in other locations around Indiana including Indianapolis, Merrillville and New Albany.
In Related News: