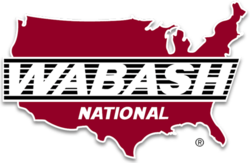 LAFAYETTE, Ind. –– Wabash National Corporation (NYSE: WNC) reported year-over-year operating improvements across several key financial and operating metrics. The Company reported an operating loss of $11.2 million for the first quarter of 2010, compared to an operating loss of $27.3 million for the first quarter of 2009. The improvement in operating loss of $16.1 million was achieved on essentially flat new trailer sales and reflects improvements in production volumes, lower raw material and component costs, and the cost and manufacturing optimization efforts implemented by the Company throughout 2008 and 2009.
The following is a summary of select operating and financial results trended for the past five quarters:
                                   Three Months Ended
               --------------------------------------------------------
(Dollars in    March 31, June 30, September 30, December 31,  March 31,
 thousands)      2009      2009      2009         2009          2010
               --------  --------  --------     --------      ---------
New Trailer
 Units Sold       2,700     3,200     3,600        3,300          2,600

Net Sales      $ 77,937  $ 86,206  $ 88,324     $ 85,373      $  78,274

Gross Profit
 Margin           -19.9%     -6.1%     -0.4%        -2.2%          -1.2%

Loss from
 Operations    $(27,319) $(16,664) $(10,207)    $(11,884)     $ (11,232)

Net (Loss)
 Income        $(28,284) $(17,935) $(66,404)(1) $ 10,858 (1)  $(139,079)(1)

Operating
 EBITDA
 (Non-GAAP)    $(21,558) $(10,687) $ (4,607)    $ (6,255)     $  (5,975)

Notes: (1) Quarterly Net Income (Loss) includes a non-cash benefit (charge)
       of approximately ($54.0) million, $20.5 million, and
       ($126.8) million related to the change in the fair value of the
       Company's warrant for third and fourth quarter of 2009 and first
       quarter of 2010, respectively.

Dick Giromini, President and Chief Executive Officer, stated, "While the first quarter is seasonally one of the weakest periods for our industry, we were pleased to deliver significant year-over-year improvement in our operating results and remain optimistic about the balance of the year. As evidenced by long-term agreements recently announced with Swift Transportation and Prime Inc., we are encouraged to see strength in quote and order activity and our backlog grow to $295 million as of March 31, up from $137 million at year-end, and $115 million as of a year ago. Economic indicators continue to show stability and, in some areas, incrementally improve. Additionally, industry forecasters expect trailer demand to increase throughout 2010, with demand improving significantly in 2011 and 2012. We remain focused on execution and believe Wabash is well positioned to succeed as the industry and economy continue to recover."
Giromini continued, "Given the improving demand environment and growing backlog, we are increasingly confident in the visibility of our end-markets and are now in a position to provide full-year trailer expectations, with new trailer unit shipments for the year projected to be in the 18,000 to 22,000 unit range. Additionally, second quarter shipments are expected to be in excess of 5,000 units. Given the improving economic environment, our growing backlog and the ongoing benefits of our cost optimization initiatives, we now expect to achieve breakeven or positive Operating EBITDA for the second quarter, as compared to our previous estimate of the second half of 2010. Needless to say, we are excited about the near-term and longer-term outlook for our business."
Operating results for the first quarter of 2010 were in line with internal expectations and the seasonality of the industry. Importantly, many metrics showed improvement during the quarter despite our lowest quarterly new trailer volumes in nearly twenty years. On a non-GAAP basis, our Operating EBITDA loss of $6.0 million was better than the fourth quarter of 2009 by approximately $0.3 million on approximately 700 fewer new trailer shipments units, but on approximately the same level of production volumes. A discussion of the Company's use of Operating EBITDA as a non-GAAP measure is included below, and a reconciliation of Operating EBITDA to net income (loss) is provided in the supplemental schedules included in this release.
Financial Results
The Company reported a net loss of $139.1 million and $4.64 per diluted share for the first quarter of 2010 on net sales of $78 million. For the same quarter last year, the Company reported a net loss of $28.3 million, or $0.94 per diluted share, on net sales of $78 million. First quarter new trailer sales totaled 2,600 units, a 100 unit decrease from the 2,700 units from the prior year period.
Results for the three months ended March 2010 include a non-cash charge of $126.8 million, or $4.17 per diluted share, related to the change in the fair value of the warrant issued to Trailer Investments as a part of the Securities Purchase Agreement entered into in 2009. The change in the fair value of the warrant was driven by the change in the Company's stock price during the quarter.
On April 30, 2010 the Company filed a universal shelf registration statement on Form S-3 with the Securities and Exchange Commission (SEC) that covers both up to $150 million in securities that may be offered by the Company and the warrant shares that may be offered by Lincolnshire Management. The registration statement has not yet been declared effective and the securities may not be sold nor may offers to buy be accepted prior to the time the registration statement becomes effective.
Third Quarter 2009 Conference Call
Wabash National Corporation will conduct a conference call to review and discuss its first quarter results on May 5, 2010, at 10:00 a.m. EDT. The phone number to access the conference call is 877-407-8035. The call can also be accessed live on the Company's website at www.wabashnational.com. For those unable to participate in the live webcast, the call will be archived at www.wabashnational.com within three hours of the conclusion of the live call and will remain available through July 28, 2010.
In Related News: