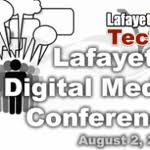 LAFAYETTE, Ind. — Few seats remain for the first Lafayette Digital Media Conference to be held on Tuesday, August 2 at University Plaza in West Lafayette.
The panel for the LDMC reads like a who's-who in local technology. Nine professionals from diverse industries will join community members for an afternoon of networking and conversations on digital media trends.
The conference is scheduled to run from 1:00p – 6:00p on Tuesday, August 2nd  in Suite 1/Grand Ballroom of the University Plaza Hotel at 3001 Northwestern Ave. Tickets for this event are free of charge, but seating is limited and less than 40 tickets remain. Seats can be reserved online at http://lafayettech.com/LDMC11
The focus of the Digital Media Conference is on the growth and subsequent localization of social media and how this impacts small and medium-sized businesses. Discussions will cover web-based tools like Facebook, Twitter, LinkedIn, Yelp, Foursquare, etc. as well as digital devices and smartphones that can be used to leverage communications, education and facilitate business.
Conference participants will learn from experts about how this technology can enhance their bottom-line, and panelists will share how they have successfully integrated social media into their marketing and customer engagement.
Presenters include:
Mihaela Vorvoreanu (keynote), Ph.D. Assistant Professor, Computer Graphics Technology, Technology Leadership & Innovation, Purdue University
Henry Howard, Managing Editor and Social Media Czar at Journal and Courier
Scott Wise, President and CEO of Scotty's Brewhouse, Scotty's Lakehouse and Thr3e Wise Men Brewing Company
"I chose to participate in this event because I think it is important to share knowledge to help others do better and be better," said Scott Wise. His own business has benefited because of the support and knowledge of others, he said. And, through this conference, he hopes to continue the "pay-it-forward" trend.
Panelists include:
Patrick Nycz said his clients frequently ask questions about social media. At the conference, he hopes to share the questions a company or brand should be asking as they consider moving toward a social media engagement.
Event sponsors also represent many sectors in Greater Lafayette:
University Plaza Hotel
ISPhotographic
Lafayette PC
JP Video Productions
C-Factor Marketing
Creative Inc. (former Sign Experts)
Nehloo Interactive
In Related News: