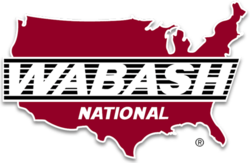 LAFAYETTE, Ind. –- Wabash National Corporation (NYSE: WNC) today announced it will conduct a conference call to review and discuss its first quarter results on Wednesday, May 4, 2011, at 10:00 a.m. EDT. Wabash National is scheduled to release its results on Tuesday, May 3, 2011, after the close of the financial markets.
The phone number to access the conference call is 877-407-8035. A live audio webcast of the call will be available through the company's website at www.wabashnational.com. For those unable to participate in the webcast, a recording of the call will be archived at www.wabashnational.com within three hours of its conclusion and will remain available through July 27, 2011.
Headquartered in Lafayette, Ind., Wabash National® Corporation (NYSE: WNC) is one of the leading manufacturers of semi trailers in North America. Established in 1985, the company specializes in the design and production of dry freight vans, refrigerated vans, flatbed trailers, drop deck trailers, dump trailers, truck bodies and intermodal equipment. Its innovative core products are sold under the DuraPlate®, ArcticLite®, FreightPro™ Eagle® and Benson™ brand names. The company operates two wholly owned subsidiaries; Transcraft® Corporation, a manufacturer of flatbed, drop deck and dump trailers and truck bodies; and Wabash National Trailer Centers, trailer service centers and retail distributors of new and used trailers and aftermarket parts throughout the U.S.
In Related News: