WEST LAFAYETTE, Ind. — Purdue University anthropology professor Sharon Williams on Thursday (Sept. 23) will talk about how Americans age as compared to people in other countries as part of the Science on Tap lecture.
The talk, "On Acronyms and Old Age: WHO, NSHAP and How We Age Around the World," will begin at 6 p.m. in the upstairs of the Lafayette Brewing Company, 622 Main St., in downtown Lafayette.
Williams said the talk will highlight her research in determining what individuals can do to make the aging process easier and how to stay healthy as long as possible. She also will present data from studies on aging in America and other countries.
"The process of aging in humans is highly variable — it's a different experience for each individual, she said. " I am trying to answer what part of aging is the result of our biology and what part is the result of behavior, the environment, culture and other factors."
The Science on Tap event, sponsored by Discovery Park, the College of Liberal Arts and the Department of Anthropology, is free and open to those 21 or older.
Williams' research focuses on the intersection of behavior, ecology, biology and health. She is working with researchers from the University of Chicago on the National Social Life, Health and Aging Project (NSHAP), a community-based study of older Americans.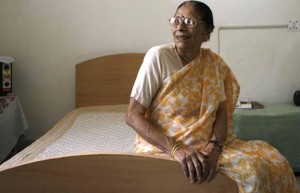 In addition, she is partnering with the World Health Organization on a multicountry study of aging, a project that has taken her to South Africa, Australia and India this spring and summer.
She maintains an active field site in Sikkim, India. She is working with Bhutia women to understand the impact of modernization and political change on health and reproduction and also is researching aging and social change in Kolkata, India.
Williams, who is treasurer for the Association of Anthropology and Gerontology (AAGE), has presented papers at national and international conferences and has been invited to present papers at conferences on physiological anthropology and biomarkers.
The Science on Tap program, organized by Purdue postdoctoral biomedical engineering researchers Kate Stuart and John Paderi, provides faculty from Purdue the opportunity to share their research activities in an informal setting, touching on subjects and providing presentations that are designed to appeal to a more general audience.
In Related News: