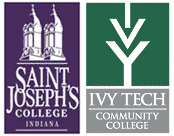 LAFAYETTE and RENSSELAER, Ind. — Saint Joseph's College and Ivy Tech Community College-Lafayette have reached an agreement that will allow Ivy Tech students with associate degrees in specific majors and programs to earn a bachelor's degree from SJC in a timely manner.
SJC will accept associate degrees from Ivy Tech as equivalent to the first two years of SJC's baccalaureate program and admit students with junior standing in the following areas: Accounting, Business Administration, Criminal Justice, Education, and Liberal Arts.
"We entered into this agreement with Ivy Tech because we believe its students are in a good position to benefit from the SJC experience as we prepare students to become professionals and leaders in the world," said SJC Vice President for Academic Affairs Dr. Daniel Blankenship. "We hope this agreement will provide a smooth transition between the two institutions and give more students the opportunity to complete their baccalaureate degrees."
"Ivy Tech students now have another option to continue their education," said Ivy Tech's Dr. Todd Roswarski, Vice Chancellor of Academic Affairs. "The combined academic excellence of Ivy Tech and SJC will prepare students for careers that are in-demand within today's global economy."
With the acceptance of the associate degree, the freshman and sophomore levels of Core, SJC's general education program, will be waived. No credits will be awarded for these courses, but they will not be part of students' degree requirements. SJC agrees to accept 60-70 credit hours in transfer work from Ivy Tech for those who have earned one of the specified associate degrees. Grades, quality points, and GPA will not transfer.
About Saint Joseph's College
Saint Joseph's College, named a "character-building college" by the Templeton Foundation and a "best Midwestern college" by the Princeton Review, is a four-year, Catholic, liberal arts college offering 25 majors, 4 group majors, 32 minors, and 9 pre-professional programs, complemented by the nationally acclaimed Core Program. Founded and sponsored by the Missionaries of the Precious Blood, SJC is located in Rensselaer, Indiana, approximately 90 minutes from both Chicago and Indianapolis, on a park-like campus of 180 acres and has an enrollment of more than 1,000 students.
About Ivy Tech Community College
Ivy Tech Community College is the state's largest public postsecondary institution and the nation's largest singly accredited statewide community college system serving nearly 200,000 students annually. Ivy Tech has campuses throughout Indiana. It serves as the state's engine of workforce development, offering affordable degree programs and training that are aligned with the needs of its community along with courses and programs that transfer to other colleges and universities in Indiana. It is accredited by the Higher Learning Commission and a member of the North Central Association.
In Related News: