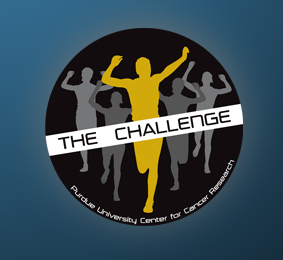 WEST LAFAYETTE, Ind. –- Purdue football coach Danny Hope and the university's Center for Cancer Research are asking the community to race against cancer in The Purdue Challenge on April 9.
Hope is the spokesperson for the event aimed at raising awareness and funds for the battle against cancer.
"With cancer being the No. 2 cause of death worldwide, the basic research that is happening at the Purdue Center for Cancer Research couldn't be more important," Hope said. "According to a recent study, last year in Indiana, there were 12,900 cancer-related deaths and over 33,000 new cases diagnosed."
Purdue President France Córdova also will speak at the event before participating.
The Purdue Challenge 5K run/walk, a 3.1 mile race, is open to the public and will begin at 8:30 a.m. It will start and finish at Ross-Ade Stadium. The registration fee is $20 for students and $25 for non-students before April 2, when all fees go up to $30. All proceeds benefit the Purdue Center for Cancer Research, one of just seven National Cancer Institute-designated basic research facilities in the United States.
Participants may sign up at http://www.thepurduechallenge.com
The Challenge also offers "Sleep-in for the Challenge" for those who can't participate but still want to contribute, receive a goodie-bag and T-shirt. Prices are the same for this option.
In 2010 there were1,600 participants in the race, and more than $50,000 was raised for cancer research.
Timothy Ratliff, the Robert Wallace Miller Director of the Purdue Center for Cancer Research, has experienced the impact of cancer.
"Cancer took away my children's opportunity to know and be nurtured by their grandfathers," Ratliff said. "Research on cancer has provided early detection tests which can reduce deaths caused by cancer by about 50 percent. That is 280,000 grandfathers, grandmothers, mothers, fathers, aunts and uncles."
Along with helping to raise money for cancer research, participants can compete for community and student participation awards. Those must be turned in before April 2. Participation can be running, walking or volunteering to help at the event.
The Danny Hope Community Participation Award enters its third year and goes to the organization with the largest percentage of members participating in the race. Three teams won this award in 2010: Sisters for Life of Chi Omega, the West Lafayette High School baseball team and the Walgreens team.
The Cuonzo Martin Student Participation Award enters its fourth year and goes to the student organization with the largest percentage of members taking part in the race. Three teams won this award in 2010: Purdue's men's basketball team, the Graduate Mentoring and Women in Engineering programs and the women's basketball team.
Both awards are sponsored by Puccini's and Folletts Purdue Bookstore. The names of the organizations that win the awards are engraved on plaques kept at the Purdue Center for Cancer Research. The winning teams also will get a pizza party at Puccini's. Forms for these awards can be found on the challenge's website.
In addition, race proceeds fund the Purdue Center for Cancer Research Challenge Research Award. Daniel Raftery, a professor of analytical and physical chemistry, won the award in 2010 for his work developing diagnostic tests for early cancer detection and for fundamental studies in cancer biology using metabolite profiling methods.
The center, which was founded in 1978, attempts to identify new molecular targets and design future agents and drugs for effectively detecting and treating cancer.
In Related News: