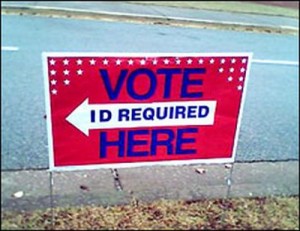 INDIANAPOLIS, Ind. — State Sen. Ron Alting (R-Lafayette) praised today's ruling of the Indiana Supreme Court upholding the state's voter identification law.
"Voting in a fair and credible election is the essence of being an American citizen," Alting said. "As a lawmaker, I believe I have a responsibility to adopt policies that protects our representative democracy by ensuring each vote cast is valid. Our state's voter ID law provides Hoosiers with the assurance that their vote is protected."
Justice Brent Dickson, writing for the 4-1 court majority, said "it is within the power of the legislature to require voters to identify themselves at the polls using a photo ID."
The League of Women Voters sought to overturn the law arguing that the legislature did not have the authority to require voters to identify themselves at the polls because the law constituted a qualification for voting, which they claimed was in violation of Article 2, Section 2 of the Indiana Constitution.
Alting said the court's ruling also addressed the claims by the group that Indiana's law violates the "Privileges and Immunities Clause," because it does not require voters casting absentee ballots by mail or those who both live and vote in a state-licensed care facility to comply with its provisions.
In the ruling, the court acknowledges that the Voter ID Law creates exceptions to its general requirement for government-issued photo identification, but the court did not believe these exceptions undermined the uniformity of the photo ID requirement for in-person voting.
"Such special expectations no more create a fatal lack of uniformity in the Voter ID law than do the statutory provisions authorizing mail-absentee voting, early voting and other accommodations that allow voting apart from in-person voting at regular polling places on election day invalidate Indiana's general election scheme for non-uniformity," the court majority said. "They represent specific legislative regulations associated with additional accommodations extended by the legislature to provide alternatives for voters for whom in-person voting on Election Day would be difficult or impossible."
In 2005, Alting supported legislation requiring voters to show photo identification at the polls. The legislation included provisions requiring the Indiana Bureau of Motor Vehicles to issue photo ID at no costs for those who cannot afford them and exempts individuals with a religious objection to being photographed from being required to show an ID.
In Related News: