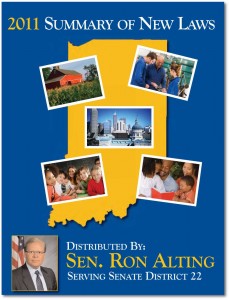 INDIANAPOLIS, Ind. — Hoosiers can now access a complete summary of the new laws approved during the 2011 legislative session online, according to State Sen. Ron Alting (R-Lafayette).
The document, available for download as a PDF, includes 1 Senate Joint Resolution, 1 House Joint Resolution, and 231 bills (117 Senate Bills and 114 House Bills) passed during the legislative session that concluded on April 29, 2011. Two of the bills in this document were subsequently vetoed by Governor Mitch Daniels, and those are marked in the summary.
Among the new laws that have recently gone into effect and are included in the summary are:
Senate Bill 57 (Synthetic cannabinoids and salvia) makes possessing, dealing in, manufacturing, or delivering a synthetic cannabinoid, or salvia equivalent to possessing, dealing in, manufacturing, or delivering marijuana, hash oil, or hashish.
House Bill 1211 (Arrest records) allows a person charged with a crime to petition a court to restrict disclosure of arrest records related to the arrest if the person: (1) is not prosecuted or if charges against the person are dismissed; (2) is acquitted of all criminal charges; or (3) is convicted of the crime and the conviction is subsequently vacated. Provides that eight years after the date a person completes a sentence and satisfies any other obligations imposed on the person as a part of the sentence, the person may petition the sentencing court to restrict access to the person's arrest and criminal records.
"If policymakers expect citizens to follow new laws, then they need to make sure the information is available to people," Alting said. "Members of the legal profession, students, educators and taxpayers can visit my website to easily access a comprehensive summary of new legislation at their convenience, 24 hours a day, seven days a week."
During the 2011 legislative session, lawmakers worked together to approve 229 new laws pertaining to a range of topics including new private-sector job initiatives, a ban on synthetic marijuana products, expansion of vote centers statewide and new legislative and congressional districts, Alting said.
He said the publication breaks down the new laws by general subject matter and includes the bill number, public law number and the sections of the Indiana Code affected by the new law. The "Summary of New Laws" can be found on by visiting www.in.gov/Senator.Alting.
In Related News: