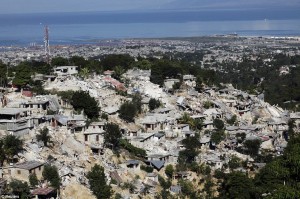 WEST LAFAYETTE, Ind. — Purdue University student organizations have arranged a host of programs this week and next as part of an ongoing campus effort to raise money for Haiti.
Delta Sigma Pi, a business professional fraternity, is having a fashion show from 7-8:30 p.m. Monday (Jan. 25) at Fowler Hall. Proceeds from the event will go to the Purdue Haiti Relief Fund.
Numerous student groups also will set up tables around campus in the coming weeks to collect donations.
Engineering World Health will set up a table from 10 a.m. to 4 p.m. Jan. 28 inside Stewart Center.
Multicultural Mujeres will offer free hot chocolate and accept donations from 11 a.m. to 3 p.m. Jan. 26 and Jan. 27 outside the Class of 1950 Lecture Hall and during the same time period on Feb. 2 and Feb. 3 on the Purdue Memorial Mall.
Purdue Organization for Labor Equality will set up a donation collection table from 11 a.m. to 4 p.m. every day through March 2 at the Bell Tower and Hello Walk.
Purdue University student groups kicked off fundraising efforts for Haiti on Jan. 14.
Faculty, students or staff can donate to The Purdue Haiti Relief Fund, said Pablo Malavenda, associate dean of student activities. Money will be sent to the Red Cross every week, with $2,000 as the weekly goal, he said.
Student organizations will continue to raise money for Haiti for the next three to five weeks, said Logan Stalions, treasurer of the relief account and a senior in the College of Liberal Arts.
Those interested in giving also can make donations in person at the Purdue Student Government Office in Stewart Center, Room G6. They also can mail checks, money orders or cash to 128 Memorial Mall, Box 640, Stewart Center, Purdue University, West Lafayette IN 47907. Checks should be made payable to "Purdue Haiti Relief Fund." Donations to this fund are not tax-deductible. Those wishing to make tax-deductible donations must make such contributions directly to the Red Cross.
In Related News: