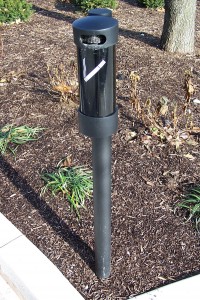 WEST LAFAYETTE, Ind. — Purdue University's West Lafayette campus is taking another step toward creating a healthier environment by going smoke free except in limited areas beginning July 1, 2010.
The campus-wide policy was announced last fall following input from faculty, staff and students. Receptacles are now being placed at 22 approved smoking locations. Download a map of all 22 designated smoking locations on Purdue's West Lafayette campus here. Smoking is not permitted elsewhere on campus or in Purdue vehicles.
"We are counting on cooperation from our smokers," said Carol Shelby, senior director of environmental health and public safety. "Initially, we hope that peer-to-peer reminders will be effective."
The new policy will be enforced in the same way as other university rules, and violators can be subject to appropriate discipline by supervisors and the Office of the Dean of Students. Individuals can report violations using the Smoke Free Campus Concern Form.
A number of health problems, such as heart disease, cancer and respiratory problems, have been linked to smoking as well as to secondhand smoke. More than 300 universities nationwide are smoke free. All Purdue regional campuses have non-smoking policies.
In Related News: