WEST LAFAYETTE, Ind. — Purdue University is conducting a week-long campaign to educate and alert the campus community against hazing.
The university's second annual Hazing Prevention Week began yesterday (Sept. 27) and runs through Oct. 3. The week includes a town hall forum and an anti-hazing pledge drive. Educational initiatives will culminate with the Interfraternity Council and Panhellenic Association's new member orientation and the screening of the documentaries "Haze" and the "Sam Spady Story."
"We've partnered with several groups to bring the various clubs and organizations together to show that hazing is not just a fraternity or sorority problem; other student groups can have problems, as well," said Kyle Pendleton, assistant dean of students for fraternity and sorority life. "Hazing is not acceptable, and it starts with all and clubs and organizations having a good understanding of university policy. We want to engage not only students, but also faculty and staff."
University policy broadly defines hazing as physical or mental abuse of any person or conduct that threatens or endangers the health or safety of any person, whether such conduct occurs on campus or not, said Jeffery Stefancic, associate dean of students for student rights and responsibilities. An act of hazing could create a substantial risk of physical harm, seriously demean or degrade a person, or interfere with a person's scholastic activities.
On Monday, officials in the office of the dean of students started an informational campaign with brochures and fliers in student residential areas. A hazing education in-service for faculty and staff is set for Tuesday morning. Stefancic will moderate a town hall forum on hazing prevention that is open to the campus community at 7 p.m. today (Tuesday) in Stewart Center, Room 206. Purdue Student Government is sponsoring the forum.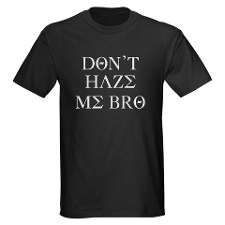 Students can take an anti-hazing pledge and participate in the "Don't Haze Me, Bro" button campaign from 11 a.m. to 2 p.m. Wednesday at the Purdue Memorial Mall and Thursday at the Recreational Sports Center.
"We'll have a sheet that any faculty, staff or student who want to take a stance against hazing can sign, and when it's finished, it will be hung in the Purdue Memorial Union," Pendleton said.
"Haze" and the "Sam Spady Story" will be shown in Loeb Theater.
The following departments and groups are partnering in various ways for this week: Fraternity and Sorority Life, Interfraternity Council, Intercollegiate Athletics, Office of the Dean of Students, Office of Student Rights and Panhellenic Association, Purdue Bands, Purdue Student Government, Recreational Sports, Purdue Student Union Board, Purdue police, and University Residences.
In Related News: