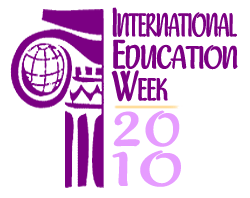 WEST LAFAYETTE, Ind. -– International and exchange students will spend a week providing activities for Purdue University and the community to learn more about foreign cultures, countries and interactions between U.S. citizens and international visitors.
International Education Week, scheduled for Nov. 15-19, is a joint initiative of the U.S. departments of State and Education to promote programs to help Americans learn more about other nations and cultures, encourage international education in local schools, and emphasize good global citizenship. This year's theme is International Education: Striving for a Sustainable Future.
The Office of International Students and Scholars will send 26 Purdue International students to four neighboring schools, including James Cole Elementary School, Mintonye Elementary School, Jefferson High School and Burnett Creek Elementary School. The students' home countries are Germany, Japan, China, Sri Lanka, India, Russia and Malaysia.
Open events on campus include:
Student testimonials by the Study Abroad Office on WBAA AM 920 or 101.3 FM at 7:30 a.m. and 4:30 p.m. each day of the week. These testimonials also will be available online at http://www.wbaa.org. Topics covered include students' experiences traveling or interning in study abroad programs in Australia, London and Hong Kong.
International Food Festival hosted by International Agriculture Ambassadors from 11:30 a.m. to 1:30 p.m. Nov. 16 in the lobby of Lilly Hall. Free samples will be provided by students representing The Netherlands, Australia, Ireland, Sweden, Germany, Austria, Nigeria, Jamaica, France, Slovakia, China, Mexico and the United States.
The Study Abroad Office will host the Global Trivia Challenge at 6:30 p.m. Nov. 18 in Krannert Building, Room G-10.
Global Café: "Aiding Each Other in Society According to Abrahamic Tradition," an interfaith discussion of Purdue Students coordinated by Dialogue International, at 6 p.m. Nov. 19 in Lawson Hall, Room 1142.
In Related News: