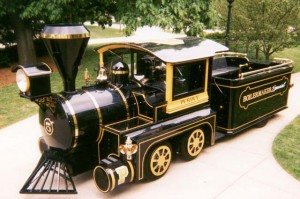 WEST LAFAYETTE, Ind. — If the Purdue campus has seemed quiet the last several weeks, it could be because the Boilermaker Special has not been around. Since early February, the university's official mascot has been in Lafayette for a major renovation.
"It's getting a new chassis, new engine and a new transmission," said Patrick Hart, president of the Purdue Reamer Club, which keeps custody of the train. "Basically, all the internal workings are being updated. The outside of it should look pretty much exactly the same."
Once the work at Wabash National is finished, which is scheduled to be late this month, it will be the fifth version of the train. It will have a VII on the front of it.
The first Boilermaker Special was presented on Sept. 11, 1940. Since then, the Special has appeared at football games and all around campus for various events. Hart said it also is often rented out for weddings, birthday parties and parades, particularly during the summer.
A second version of the train appeared in the 1953, and the third one was used from 1960 until 1993. The fourth version, which was used until earlier this year, was dedicated in September 1993.
While the Boilermaker Special should return to campus late this month, the first major event at which it is scheduled to appear is July 15-16 at the College Football Hall of Fame's enshrinement ceremony in South Bend. Former Purdue star quarterback Mark Herrmann will be inducted at that time.
Hart is looking forward to the Boilermaker Special's return, noting that it has missed such big events as spring commencement ceremonies and the Indianapolis 500 parade. He said a dedication ceremony for the latest version of the train will be sometime this fall.
In Related News: