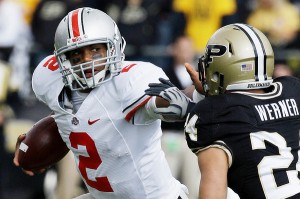 WEST LAFAYETTE, Ind. — Purdue linebacker Jason Werner has been granted a sixth year of eligibility by the NCAA and will play for the Boilermakers in 2010.
Since arriving at Purdue, Werner has been healthy for only three seasons: 2005, 2007 and 2009. He missed both the 2006 and 2008 seasons with a recurring back injury.
"It feels great to finally get the word, and I'm extremely excited to be back," said Werner, a two-time Academic All-Big Ten honoree who earned his bachelor's degree in organizational leadership and supervision in August of 2009 and currently is working toward a graduate degree. "I have been working out this whole time without knowing whether I would get the chance to play again, and now that the decision has been made I can really get back at it. I'm looking forward to playing with my teammates again and for our coaches."
Werner appeared in six games as a reserve and on special teams in 2005 and in all 13 games as a backup in 2007 before starting all 12 games at strongside linebacker in 2009. Last season, the team co-captain ranked third on the Boilermakers with 77 tackles (61 solo, 16 assists), including 14.5 for loss and 4.5 sacks, with two pass breakups, two forced fumbles and one interception. His average of 1.21 tackles for loss per game ranked eighth in the Big Ten. Werner had a career-high 13 tackles vs. Toledo on Sept. 5. He had 3.0 tackles for loss at Oregon on Sept. 12 and vs. Ohio State on Oct. 17.
"This is great news for Jason, our football family and all of Boilermaker Nation," head coach Danny Hope said. "He's a heck of a player who did a great job last season and can be even better this year. He can be one of the top players at his position in our league. Getting him back also helps us from a leadership standpoint because we don't have a very big senior class, and he's a great leader and teammate. All the way around, it's exciting to have Jason back."
In 31 career games, the 6-foot-4, 221-pound Werner, from Greenwood, Ind., has totaled 105 tackles (82 solo, 23 assists), including 16.5 for loss and 5.5 sacks, with three pass breakups, two fumble recoveries and one interception. He was named Indiana Mr. Football as a senior at Roncalli High School and came to Purdue as a safety before moving to linebacker during the 2006 spring season.
Werner is the second Boilermaker to be granted a sixth year in as many years, following defensive back Torri Williams.
In Related News: