FULLERTON, Cali. — The Purdue women's soccer team fell to Southern California 1-0 on Sunday at Titan Stadium in Fullerton, Calif., in its final game of the Under Armour Invitational.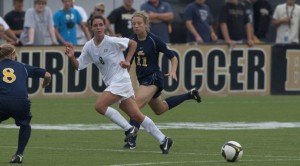 "I thought we had a good performance for most of the game," head coach Robert Klatte said. "It was a really competitive game. Unfortunately, we misjudged the free kick which led to the goal. That was the difference."
USC (2-1-2) scored the lone goal in the 10th minute off of a free kick from midfield. Karter Haug lobbed the kick from the center circle over Boilermaker keeper Carianne Betts' head where Megan Ohai made a run. She was able to get a head on the ball and redirect it into the back of the net.
Purdue (3-2-1) had several good chances to tie the score including five corner kicks. Despite the opportunities, the Trojans' defense was tough all afternoon and only allowed one shot on goal. On the other end of the field, Betts made several important saves. The Parma, Ohio native stopped a total of five shots on goal including a blast in the 84th minute that led to a Boilermaker counterattack.
Betts saved a shot from Samantha Johnson and cleared the ball toward midfield. Eventually, freshman Jordan Frick gained control and fired a shot on goal, but Trojan goalkeeper Shelby Church was up to the challenge.
"We put a lot of pressure on in the second half, but couldn't punch anything in," Klatte said. "It was definitely a growing experience and we need to learn from it and bring the same intensity that we had the final 70 minutes of the game. We can learn a lot more sometimes with a loss than with a win unfortunately. It'll be good to get home and get some rest before this weekend."
The loss snapped Purdue's four-game unbeaten streak and dropped its overall record against USC to 0-1.
The Boilermakers are set to return to action on Friday when they host Hofstra. Kickoff from the Varsity Soccer Complex is scheduled for 5 p.m. ET. Live results and a live radio broadcast can be found at purduesports.com.
In Related News: