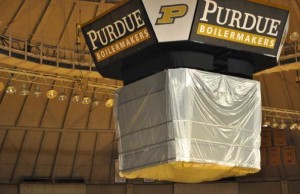 WEST LAFAYETTE, Ind. — Seat selection and allocations for the 2011 Purdue Men's and Women's Basketball season will begin on Monday, April 25, 2011 and conclude by July 2011 for active John Purdue Club members. The Mackey Arena seat selection order will be based upon John Purdue Club priority point standings as of March 31, 2011.
John Purdue Club members will receive first priority on ordering tickets. Members will receive a postcard and email notifications about their specific seat selection time slot if the Athletic Ticket Office has an email address on file. Non-John Purdue Club members will receive a season-ticket application, and the Athletic Ticket Office will allocate seating based on consecutive years of purchase.
There will be several methods for selecting men's and women's basketball seats as follows:
Online
Members may log on to a secure website. From this site, they will be able to select their seats. For ease of selection, the site will provide members a 3-D view of the court. Please note, the Athletic Ticket Office must have a current email address for anyone who wishes to order online.
In Person
Members may come to the Athletic Ticket Office in the Intercollegiate Athletic Facility to select their seats during or after their assigned selection time.
Over the Phone
Athletic Ticket Office and John Purdue Club staff members will be able to help members choose seats and place their orders over the phone at (800) 49-SPORT.
Regardless of which method chosen to select season tickets, all members can follow the progress of the reallocation online by clicking here. That site includes links to view seat availability prior to your selection time and will provide a comprehensive list of frequently asked questions (FAQ's) and other pertinent reallocation information.
An invoice will be emailed to members within two business days of their selection, and a paper invoice will be mailed a week after their selection. You must make a payment within 30 days or your seats will be released. Payment can be paid in full or in four installments.
Applications for tickets for the "Crossroads Classic," Big Ten Tournaments and parking will be included on the invoice for your season tickets.
In Related News: