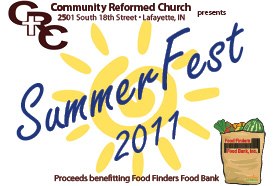 LAFAYETTE, Ind. — Community Reformed Church's annual Chicken BBQ event has expanded to become their first annual Summer Fest.
CRC invites the public to 2501 S. 18th Street in Lafayette from 2:00p-7:00p on Saturday, July 9th for food, games and snacks. The proceeds of the event will go to Food Finders Food Bank. Games featured at Summer Fest include a Dunk Tank, Bungee Run, Velcro Wall and many others. Last year's event raised nearly $5,000 for Food Finders, and CRC is hopeful that the turnout will be even greater this year.
Tickets are $7 for adults and $5 for kids 10 and under, and include meal, games, and carnival snacks. Tickets can also be purchased for games and carnival snacks only at $3 each. To purchase advanced tickets, please call 765.474.5551 or pick them up at Food Finders Food Bank or Community Reformed Church. Tickets can be purchased the day of the event as well.
For more information about the event or to find out how to volunteer, contact Karen Bosma at karen@crclaf.org or Kim Motuliak at (765) 471-0062 or kmotuliak@food-finders.org.
In Related News: