WEST LAFAYETTE, Ind. — Overwhelming response to a trial collaboration between the Purdue Philharmonic and Lafayette Ballet in 2011 has resulted in two nights of "Postcards" concerts in the Lafayette Ballet Ballroom on Saturday (Sept. 22) and Sunday (Sept. 23).
Admission is free to the one-hour concert, but due to limited seating, reservations are advised. Call 765-423-1633.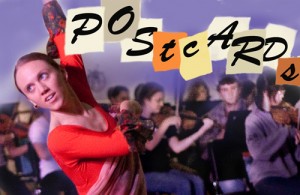 Four short, well-known classical works will be brought to life with a touch of humor through the dynamic collaboration of young musicians and dancers. The Purdue Philharmonic is conducted by Andrew King; the Lafayette Ballet is headed by Sandra Peticolas.
Peticolas describes Prokofiev's "Classical Symphony" as "the ultimate tutu vehicle," Chabrier's "Habanera" as "a reluctant bull at the arena," Sibelius's "Valse Triste" as "a tribute to the lost young men of World War II" and Mozart's "Overture to the Marriage of Figaro" as "ballerina verses flash mob."
The Saturday concert is at 8:00pm; the concert Sunday is at 4:00pm. The ballroom is located on the third floor of an historic downtown Lafayette building. The structure does not have an elevator.
The Lafayette Ballet Ballroom is at 226 N. Sixth St., Lafayette, Indiana.
In Related News: