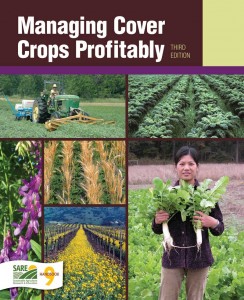 WEST LAFAYETTE, Ind. -– A new online tool to help farmers decide which cover crops will benefit their row crop rotation is now available in Indiana.
Purdue University and the Midwest Cover Crops Council teamed up to release the MCCC Cover Crop Decision Tool, which uses consolidated cover crop information by state or province to assist farmers in making cover crop selections at the county level.
Developing information for each state or province were university researchers, Extension educators, Natural Resources Conservation Service personnel, state departments of agriculture personnel, crop advisers, seed suppliers and farmers. Purdue agronomy professors Eileen Kladivko and Keith Johnson contributed to the project.
"The MCCC hopes the cover crop selector tool will encourage the adoption of cover crops by providing the information and decision-making help necessary for farmers to successfully integrate cover crops into their cropping systems," Kladivko said.
Users of the tool select their state or province and county. They also can give information on their cash crops, including planting and harvest dates, field information such as the soil drainage class, artificial drainage or flooding, and desired cover crop benefits.
Designed to be user-friendly, the tool allows users to immediately see how their input changes their cover crop options. Users can generate an information sheet for a selected cover crop that provides additional information and references relevant to application within the state or province.
The tool also has been completed for Michigan and Ohio, while other states and provinces are developing their information. When completed, Illinois, Iowa, Wisconsin, Minnesota and Ontario will be added to the Web-based system.
A Natural Resources Conservation Service Innovation Grant, Michigan State University's Project GREEEN -Generating Research and Extension to meet Economic and Environmental Needs – and the Great Lakes Regional Water Program fund the project.
The tool is available at http://mccc.msu.edu/SelectorTool/2011CCSelectorTool.pdf
In Related News: