LAFAYETTE, Ind. — Ivy Tech Community College-Lafayette has set a record Spring semester enrollment. The college's ten-day headcount is 9,453 – a 15.4% increase over the Spring 2009 semester. Total full-time equivalents (FTE) rose 24.5% to 5,411.20 FTE.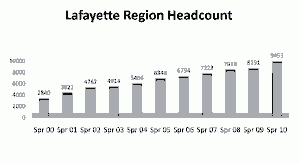 The college's instructional sites in Crawfordsville and Monticello have experienced tremendous growth. Headcount at the Montgomery County Instructional Center has increased 57%, serving 354 students this spring. The White County Instructional Center has grown 118% since its opening semester in spring 2009, and now is serving 203 students. The growth of FTEs at both sites surpasses the growth in headcount – a 78% increase in Crawfordsville and a 171% increase in Monticello.
"The enrollment figures continue to illustrate the value of Ivy Tech to the community," said Dr. David Bathe, chancellor for Ivy Tech's Lafayette region. "Not only are more students enrolling in our classes, but also those students are enrolling in more classes than before."
Statewide college spring enrollment increased 28.6%. The Lafayette campus is the fourth largest campus and is the sixth largest region. Indiana's community college system now serves 121,594 students at 23 campuses and numerous instructional sites in fourteen regions across the state.
Ivy Tech Community College is the state's largest public post-secondary institution and the nation's largest singly-accredited statewide community college system with more than 130,000 students enrolled annually. Ivy Tech has campuses throughout Indiana. It serves as the state's engine of workforce development, offering affordable degree programs and training that are aligned with the needs of its community along with courses and programs that transfer to other colleges and universities in Indiana. It is accredited by the Higher Learning Commission and a member of the North Central Association.
In Related News: