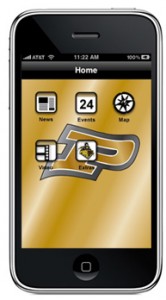 WEST LAFAYETTE, Ind. — Purdue University has updated its app for Apple iPhone and iPads to make it easier for students to view dining court menus or catch a bus.
Martin Sickafoose, director of online marketing, said when developing the updated version, the team looked at how the app could be most useful.
"We received feedback from students and tried to incorporate many of the things they wanted to see," Sickafoose said. "For example, the CityBus feature will allow them to plan out their day more efficiently."
The newest features include:
Real-time tracker of buses and schedules
Information regarding the capacity of computer labs
Menus for the dining courts
Easy access to MyMail
Access to the Purdue directory
Photos of various campus events
Safety updates and tips
The app also includes previous features that include campus news, maps, tours of Purdue landmarks and more.
The Purdue app is free and is available through the Apple Store at http://itunes.apple.com/us/app/purdue/id371741254?mt=8
In Related News: